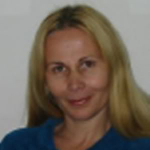 Psychologist, Certified Transactional Analyst in Psychotherapy (CTA-P)
I am a senior psychologist at a Private Psychiatric Cabinet of Timisoara, where I perform and work as a psychotherapist, certified in Transactional Analysis. I am a medical doctor, PhD, associate professor at the Department of Hygiene, University of Medicine and Pharmacy "Victor Babes" Timisoara.
I began my training in Transactional Analysis in 2000 and continued this process until 2012, when I succeeded the CTA exam. As a psychologist I worked four years at the Dumitru Ciumăgeanu School with classes' I-VIII, six years as a PFA psychologist, and now I work in psychiatric medical field since 2008.
---
Workshop delivered during the conference:
"How we use nonverbal communication in transactional analysis" (Saturday, November 1st, 16.15 – 18.00)
---
« Trainers