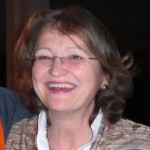 Teaching and Supervising Transactional Analyst in the field of Organisations (TSTA-O)
Masters degree in Business administration
Trained in Systemic Counselling, Supervision and Coaching, SySt© Systemic Structural Constellation Work and Organisational Constellation Work, certified in KODE© and KODE X© Competence diagnostic, Gestalt.
Since 1987 management consultant with main focus on Organisational development, leadership and management development, coaching, professionalization of Consultants, coaches and trainers.
2006 – 2010      EATA PTSC Chair (Professional Training and Standards Committee)
2010 – 2013      President of EATA (European Association for Transactional Analysis)
Since 2014       EATA TEW and TEvW coordinator
Main emphasis as a consultant:
Coaching and Supervision
Management Consulting
Accompanying management activities including change management within organisations
Special expertise in:
Coaching of individual Managers and Management Teams
Arrangement of organisation and management structures in companies and concerns
Settlement of attitudes and development in terms of management actions
"members of management" becoming " managements teams
Train the Trainer for internal Coaches, Mentors and Consultants
Organisational Learning with main focus on Organisation and personnel
comprehensive change processes, such as "monopolist" becoming "competitor"
merging or splitting up of enterprises: settlement of differences, discover common grounds, arrangement of new structures and cultures or accompanying the process of separation, parting, sorrow and the "new" settlement
Experienced in different branches of industry, such as:
Production, applied science development, personnel, telecommunication, banking and finance, public administration, insurance, service provider.
---
Workshops delivered during the conference and post-conference:
"Shame – (not) an issue for organisational work?" (Saturday, November 1st, 10.45 – 16.00)
"The invasion into the personal space in organisations, training, counselling and psychotherapy" (Sunday, November 2nd, 11.15 –
16.45)
"Roller coaster of emotions: emotions and organisational change" (Monday, November 3rd, 9.30 – 18.00)
---
« Trainers