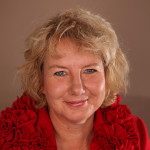 Teaching and Supervising Transactional Analyst in the field of Organisations (TSTA-O)
Drs Sari van Poelje is an international consultant, executive coach and trainer. She is the managing director of INTACT, international training, coaching and consultancy. With offices in Budapest and Luxemburg, and associated offices in Lyon and Gotenborg, the company offers executive coaching, management consultancy and training programs. Sari has fulfilled senior director roles in various international corporations such as KLM, EMI music, ASML and Shell for 23 years.
Sari has 28 years experience of coaching and consulting with managers and directors in a multinational business setting. She has been a consultant and coach for such diverse companies as IFF, BMW, Claas, Carmeuse, ING, Prezi and GE. For references go to Linkedin. She is a licensed teaching and supervising transactional analyst, PCM trainer, NOBCO-EMCC accredited as a master coach and is currently applying for her ICF MCC. Her passion is co-creating change in an organizational setting and team agility.  For more information go to: www.intact1.com.
---
Workshop delivered during the conference:
"Intuitive coaching with TA" (Saturday, November 1st, 16.15 – 18.00 / Sunday, November 2nd, 9.00 – 11.00)
---
« Trainers