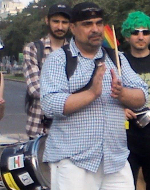 Psychotherapist
Has studied bioengineering and psychology and has done research in biology, showing interest in intra-species communication from single-celled organisms to human beings.
Desmond Morris and Konrad Lorentz facilitated his discovery of Eric Berne and Transactional Analysis.
Psychotherapist under supervision, certified by the Romanian Federation for Psychotherapy, in his final stage of training for the CTA exam (Certified Transactional Analyst).
Runs his own counseling and coaching firm.
Loves strawberry ice cream, rugby (Fidji), american football (Green Bay Packers) punk rock (Rancid, The Queers, The Ramones, SKA-P), and is also a fan of Rapid Giuleşti, FC St. Pauli and Rayo Vallecano de Madrid.
---
Workshop delivered during the conference:
"United States of Ego" (Sunday, November 2nd, 9.00 – 11.00)
---
« Trainers